Reserva Toh
Reserva Toh is a rare ecological reserve in Yucatán, where you can have a quiet jungle walk while bird-spotting. Reforestation, conservation of diverse ecosystems and sustainable tourism are the aims of this jungle ranch.
Every time I've had the opportunity to visit the 'selva', the low deciduous jungle which covers most of the Yucatán Peninsula, I've found myself face-to-face with centuries of Mayan expertise and understanding of the use of plants as food and medicine. Plus a restoring calm, that is as powerful as the sound of the sea, and on hot days, a welcome shady alternative.
I was inspired to come here after reading an article in the Playa Times (April 5-18 2017). I am always on the lookout for a jungle walk as there are not that many options in Yucatán. There are a few eco-parks along the coast (Xcaret, Xel Ha, Xplor, Xsenses etc), but they are all commercial, with zip-lines, ATV rides, dolphin swimming and restaurants (and crowds of people). In other words: noisy! However, there are a few jungle parks that I know of in this area, where the conservation of flora and fauna is a priority and where tourism is developed responsibly and where the jungle is 'wild': Sac Be in Playa del Carmen and Dr Alfredo Barrera Marín Botanical Garden in Puerto Morelos. And now we have Reserva Toh open to the public. There are a few hopeful signs that more entrepreneurs see the value presenting the selva's ecological heart to the public but don't hold your breath. They are mainly cenotes in the jungle with no walking areas.
I made an appointment to come here with my friends (a small group of five) with Cindy, the Director of the Reserve. They provide guided jungle walks and reservation is strongly recommended as the guides are not always on site. And believe me: you'll need a guide!
We came here in April 2017, on a hot day. On our arrival we saw about 10 local Maya working on the premises. After the jungle was destroyed by fire during a hurricane, the owner Fernando Barranco bought the land as a ranch and his initial aim was to farm commercial plants. However, seeing the beauty of the estate, he decided to reforest it. For the last few years, the workers have been planting red cedar, mahogany and breadnut trees and cultivating plants that are used in traditional Mayan medical treatments.
Our guides, Giselle and Miguel Angel, pointed out some of them to us with excitement on our walk: planta de sobaco (literally 'armpit plant', for underarm cleaning; I'm not sure what this is, but it may be sage, the 'Flower of Kings), cow's foot (or 'Pata de Vaja' from its cloven leaves – a traditional remedy for high cholesterol, diabetes, stones and contraception), copal (the resin was used for incense in pre-Columbian Mezoamerica and just smelling the crushed leaves conjures up that atmosphere), ceiba (the bark is used as a diuretic, aphrodisiac, and headache treatment and this lofty monarch of the forest was the World Tree of the Maya). They also have raised beds of jícama (Mexican turnip), cilantro (coriander), and epazote (Mexican tea). You'll also see sapote, the chicle tree whose sap is used for chewing gum. The bark is cut in diagonal stripes, like rubber trees, to collect the sap.
The Reserve is now providing environmental education workshops, meditation, hiking, bird-watching and even camping.
The highlight of our walk was bird-spotting. If that is your passion, they strongly recommend you come here around 7am when the birds are most active. Although we were here late morning, we did manage to see or hear a few birds thanks to Miguel Angel's eagle eye: Toh (the motmot after which the ranch is named; also the symbolic bird of Yucatán state), Gartered Trogon (with its bright yellow chest and tail 'cross-gartered' like Malvolio in Twelfth Night), Black-headed Trogon (without the fancy stockings), Tropical Pewee (a charming small flycatcher), Piratic Flycatcher (so-called because it takes over other birds' nests, like the cuckoo), and the elegant blue-grey Yucatán Jay. I took no close ups during our walk so I borrowed a few photos from the internet.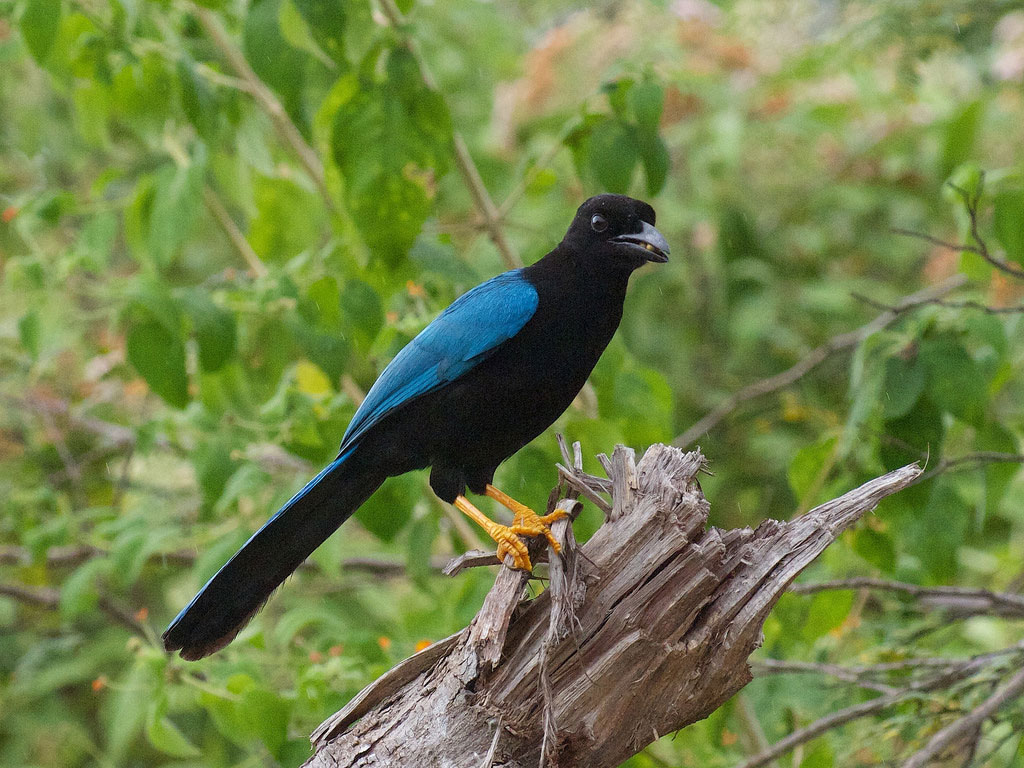 There are dozens of other species here, including woodpeckers and the colourful toucans. Miguel Angel described how the toucans 'sing' to each other in the early morning, although I think his enthusiasm carried him away. Toucans sound more like someone sawing a piece of wood with nails in it! I'd love to go back for the full 2.5 hour walk in the early morning, but our short stroll to their ferny cenote gave us a great taste of the selva and its secrets. And that magical calm.
How to get there:
The reserve is at kilometer 19 (watch out for the kilometre posts along the road) on the Ruta de los Cenotes in Puerto Morelos which leads to Leona Vicario village on the Cancún-Valladolid highway. You will see the Reserve Toh signpost and at this point you will need to turn left. Then drive for a few minutes until you see the sign: Welcome Birdwatcher.
You will need to bring stout walking shoes and water as there are no shops on the site, although there are toilets.
Mix and match:
After the reserve visit you can spend an afternoon at Puerto Morelos beach (Hammocks, Beaches) or you could spend the rest of the day at the jungle eco hotel Jolie Jungle, just 5km further on the main road (the Ruta de los Cenotes). We came here to have a meal in the Hammock bar and a swim in the pool (the pool water is from a cenote nearby), you can also play table tennis or pétanque, and stay the night in a jungle bungalow. The owners are very welcoming and there is nothing nicer than listening to the jungle at night and completely de-stress. Plus, as the name suggests, this stretch of road has a wider choice of cenotes than you could possibly visit in a day.